Click
here
to go to my disclosure policy.
Hey, I don't know if you have heard about SchoolhouseTeachers.com yet…but if you haven't, you are missing out on an excellent resource, SERIOUSLY. Imagine a place, where you can get over 300 courses, NO additional fees, all for about $10 a month….OR if you bit the bullet.. $90 a year.
I don't know about you but I'd be thinking.. Pretty good deal.. what's the catch?
Get this.. NO CATCH. Well okay.. One catch. You have until January 15 to lock in that price. Cool eh? Do note that I use affiliate links in this post which help my family and don't hurt you one bit. 🙂
You can learn more here: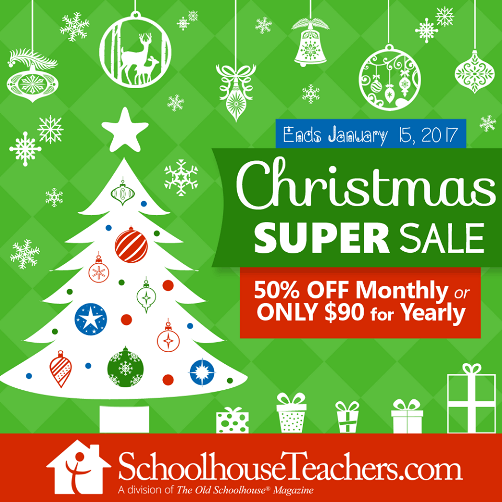 So let me tell you more about this wonderful resource.
As you may or may not know, my son and I have a on again off again study of Canada going. Each year we start in a different place, go like mad for a while and then things change or get forgotten or complaints about methodology start and we stop. I want to STOP that cycle.
To the end this year I bought a comprehensive history of Canada. It's a fairly boring text but comprehensive. I thought I could EASILY supplement and I can! WOOT WOOT!!!!
To go along with this book I plan to use a variety of hands-on learning options and worksheets and discoveries that I have picked up around the web BUT I have found THREE (and there will more than likely be more).. areas in SchoolhouseTeachers.com that I will be able to use.
First off:
EveryDay Explorers: Canada.
This course walks us through every province of Canada, listing some highlights, 20 days to explore each province, with loads of sights to see, history to learn and geography to explore.
Add to that:
EveryDay Easels.
A big part of my hope is, as we finish each province, to use an artist study to capture something about the province that we wish to remember. There are 5 and 10 day lesson plans in this course and you can jump around as you see fit.
Daily Discoveries was an exciting find.
My son loves all things animals and exploratory so adding a learning component is just awesome.
Anyways, as I said earlier they are having a great promotion on right now. You really need to check it out. Over 300 courses for 50% off with no additional fees. It's a rock solid investment.
Don't delay! This special ends on January 15th.