Please welcome with me Diana Rockwell to my blog today.  With my son's ear surgery this month and life being a bit hairy lately, she was ever so gracious to help me out with my blog.  
Thank you Diana so very, very much.  🙂
My heart was racing, chest pain developing, an EKG changing. Off to the hospital in an ambulance I went, filled with fear and worry while waiting for answers from doctors, answers which did not come quickly enough.
Fear is an unpleasant emotion caused by the belief that someone or something is dangerous, likely to cause pain, or is a threat. What are the things that cause us to fear? I put this question out in a Facebook post and the answers were revealing. Profound fears were expressed, such as loved ones not knowing Jesus, not knowing of God's faithfulness or receiving the desires of one's heart such as marriage and children. The fear of poor health, death, not having enough money, and loss of a job were also expressed. All of these fears lead to worry.
Worry is a state of anxiety and uncertainty over actual or potential problems. As I asked what my Facebook friends were worrying about, more truth was told. Many are worrying about financial concerns, about their health, something happening to them, leaving their husband alone due to their death, children that are rejecting Christ, hurting families, and the state of the world. All of this worry makes me think of a promise in Matthew 6.
"For this reason I say to you, do not be worried about your life, as to what you will eat or what you will drink; nor for your body, as to what you will put on. Is not life more than food, and the body more than clothing?" – Matthew 6:25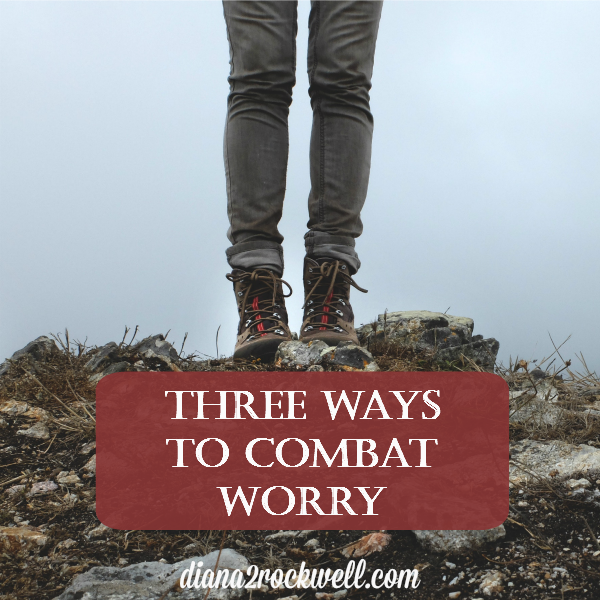 So what do you do when the storms of life hit you? There are three ways to combat worry.
Prayer

Check your thoughts

Let Go and Let God.
It is hard not to worry, but Matthew 6:26 reminds us that God takes care of the birds, so He will take care of us. Matthew 6:33 tells us that when we seek first His kingdom and His righteousness, all these things will be added unto you. By going to God in prayer we invite Him into our storm.
[Tweet "By going to God in prayer, we invite Him into our storm."]
We need to take our thoughts captive. (2 Corinthians 10:5) Psalm 139: 23 says, "Search me O God and see if there is any anxious way in me," imploring us to give our worries to God. Once we do, we need to let go and let God have our problems, Matthew 6:34 says, "So do not worry about tomorrow, for tomorrow will care for itself, each day has enough trouble of its own."
I am still in God's waiting room, but God holds my tomorrows. He knows my heart better than my cardiologist. I am combating worry daily by prayer. I check my thoughts by reading God's word and I let go by trusting God for complete healing.
[Tweet "I am still in God's waiting room, but God holds my tomorrows."]
Father God, I ask that fear and worry not rule our lives. You did not give us a spirit of fear but of power, love and a sound mind according to 2 Timothy 1:7. I ask that you bless us and answer our prayers and remove all fear and worry, helping us walk through the storms of life knowing you are in complete control.In Jesus I pray, Amen.
What worry or fear do you need to give to Jesus?
Diana Rockwell lives in Ramona, California. She is a daughter of the King of Kings, a wife, mother, grandmother, and a retired nurse. She serves on a Freedom in Christ ministry team as a trained encourager and prays for people who are struggling with lies that are keeping them in bondage. She has taught women's bible studies and shared her testimony in Nazareth on a mission trip to Israel where several people came to know Christ as a result. Her personal weight loss journey is published in Tracie Miles book "Your Life Still Counts" released in October, 2014. Diana loves to share the message of freedom and redemption in Christ on her blog. You can find Diana at her blog, Facebook and on Twitter.